A Seasonal Guide for the Best Time to Visit Santa Fe
Use our guide to help you plan your Santa Fe vacation
There's no doubt that Santa Fe, New Mexico is beautiful at any time of year, but depending on what you want out of your vacation, you might want to visit during a specific season. Visit in the winter to hit the slopes at nearby Taos, or come in the summer to check out a music festival in downtown Santa Fe. No matter when you visit, you'll have a great time in Santa Fe. Follow our guide to discover which season is best suited to you.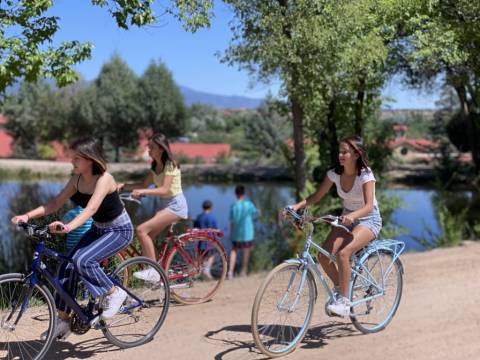 Spring
Spring is a great time to visit Santa Fe for a few reasons. You'll experience some awesome spring temperatures, the city will be uncrowded, and there are plenty of things to do.
Visit top attractions such as the Georgia O'Keeffe Museum and The Cathedral Basilica of St. Francis of Assisi. It'll practically feel like you have the place to yourself! Be sure to head outside to the Santa Fe Botanical Garden to enjoy the wonderful spring weather.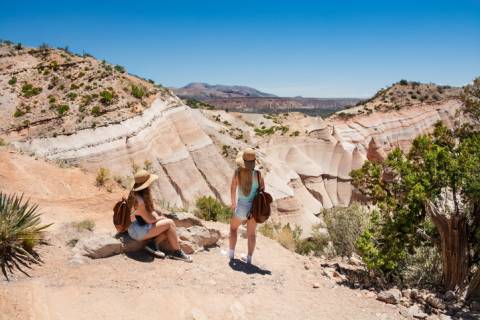 Summer
Summer is the most exciting time of year in Santa Fe, and for good reason. During summer, the city comes alive with arts, culture, and music. Starting in mid-July and continuing for a whole month, the Santa Fe Chamber Music Festival brings some of the world's top classical musicians to Santa Fe. They put on a concert every day during the festival, and there are also classes and other events that go on.
Also, the Santa Fe Bandstand festival occurs every summer and brings tons of live music to the city. Starting in June and ending in August, Bandstand hosts live music nearly every night at either the Historic Santa Fe Plaza or at Swan Park. The Santa Fe Opera also has a totally packed schedule during the summer months, so be sure to pay a visit to one of their outstanding shows.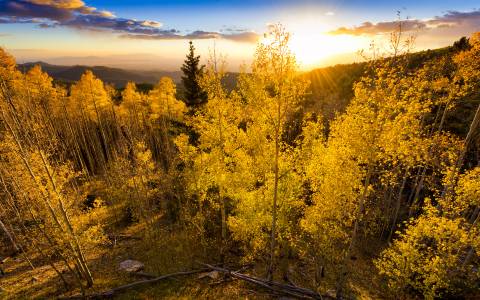 Fall
To get the best of both worlds of great weather and plenty of excitement, visit Santa Fe in the fall! Fall in Santa Fe has perfect temperatures for getting outdoors and enjoying the beautiful Santa Fe scenery. Go hiking on the Atalaya Mountain Trail for a six-mile trek through lush forests and awesome views of the Sangre de Cristo Mountains.
The Fiesta de Santa Fe, which is a weeklong celebration of all things Santa Fe, is in early September. The festival celebrates Santa Fe's rich history with a week full of music, art, and delicious traditional cuisine. September in Santa Fe also features the Santa Fe Wine & Chile Fiesta and the Santa Fe Artists Market.
October is home to the annual Harvest Festival and the famous Santa Fe Independent Film Festival. With the wonderful weather and so much excitement going on, it's easy to see why fall is the busiest and most popular time of year in Santa Fe.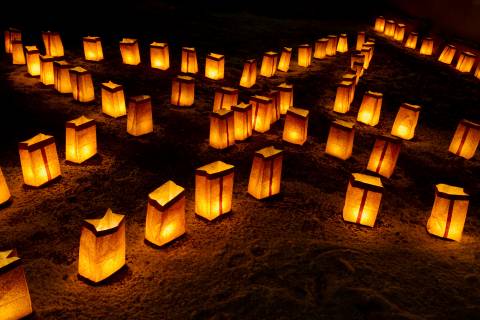 Winter
For many people, Santa Fe is the perfect destination for a winter vacation. The Taos ski resort is just an hour drive away where you can enjoy world-class skiing and riding. For a closer skiing experience, check out Ski Santa Fe. The mountain has just about everything a skier or snowboarder could want, whether they're an expert or a beginner.
And spending the holiday season in Santa Fe is loads of fun. The time around Christmas and New Years is full of excitement for Santa Fe. Every year on the night after Thanksgiving, people gather for a large Christmas celebration and tree lighting.
Another favorite Santa Fe tradition falls on Christmas Eve. The Farolito Walk takes place on Canyon Road, where thousands of paper lanterns are lit and placed along the road. Carolers line the street and sing classic Christmas songs. Be sure to dress warm and bring your Christmas cheer.
Plan Your Santa Fe Vacation
There's no bad time to visit Santa Fe. Whether you want world-class skiing and snowboarding or a taste of traditional southwest culture, Santa Fe has it all. Follow our guide to pick the perfect season to visit, and book your stay with Santa Fe Luxury Rentals today!
Browse Santa Fe Vacation Rentals