Explore Santa Fe
Santa Fe is your ideal vacation destination
If you're looking for a vacation that will have you strolling through world-famous galleries and museums one day, hiking mountain trails the next day and getting a massage, having a gourmet meal and taking in a show the day after that, Santa Fe is your ideal destination. Start planning your visit to The City Different by browsing our luxury Santa Fe Vacation Rental properties here.  
If you aren't sure which time of year to visit, perhaps our seasonal Santa Fe guide will help. Our guests can download our app, which features an even more comprehensive list of restaurants, concierge services, places to go, and adventures to be had here in Santa Fe.
About Santa Fe, NM 
Santa Fe has long been known for its rich culture and history. There are many museums, galleries, restaurants, shops, and opportunities to enjoy the performing arts. However, to fully benefit from all Santa Fe has to offer, it's important to understand the history of the oldest capital in the United States of America.
Santa Fe is a fusion of Pueblo Indians, Mexicans, Spaniards, and eventually Anglos in the mid 19th century. It is this diverse background that has given Santa Fe such a unique disposition. Buildings that date back hundreds of years still stand, and it is mandated that any new structure must reflect the Spanish-Pueblo style of architecture, giving Santa Fe a feel like no other city in the USA…"The City Different" welcomes you!
See life from 7000 ft. Outdoor adventure and sports, Native American pueblos and culture, wildlife, open space, clean air…oh, and opera, gourmet cuisine and ART! And share in the spirit of some of the oldest living cultures in America!
The artwork produced in Santa Fe and throughout New Mexico has found its own following by some of the greatest museums, art critics, and art collectors around the world. However, you can find some of the most spectacular offerings on Canyon Road "The Art & Soul of Santa Fe", and center of the 3rd largest art market in the United States after California and New York.
While art lovers visit the town on a regular basis, there are two huge events that really attract people from all over the world. Santa Fe Indian Market, is held over the third weekend in August. First presented in 1922, the event is now recognized as the premiere of event of its' kind. The market is a show for over a thousand of the best Native American artists from around the country. In the end, artworks are chosen for distinctive awards but the customers and visitors are the true winners.
Another big week for the community at large is the Santa Fe Fiesta that takes place in early September. The Santa Fe Fiesta was originally held in 1926 and is now the oldest community event in the country.
Santa Fe is the earliest settled capital city in America and its' essence reflects a blend of cultures that have co-existed in this area for centuries. The town is undoubtedly proud of its history and exhibits that in everything from architecture to song to food. Visitors to this magnificent place continue to fall in love; A very exotic and different experience right here in the USA!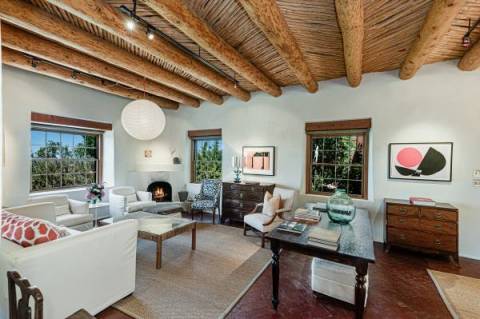 Looking for a Santa Fe Property Management Company?
See if your Santa Fe vacation rental is a fit for our hand-selected portfolio of Santa Fe vacation rentals. Our rental property management services include maintenance, repairs, marketing, guest communication, and more! We prioritize maximizing returns while also preserving and maintaining your home's excellent condition.