Santa Fe Spanish Restaurants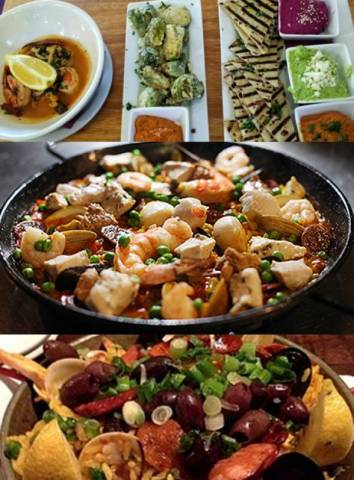 Location: 72 West Marcy St., Santa Fe, New Mexico 87505
Phone: (505) 982-3433 
The newest entry in the tapas derby, this one adds in touches of the Middle East to spice up its creative, ever-changing menu. The small tables and lively buzz are part of the convivial vibe, so save that intimate tete-a-tete for later, and go for the fun.  Walking distance from Casa Viva, Casa Paloma and Casa Oasis.
El Mesón Santa Fe Restaurant & Tapas Bar 
Location: 213 Washington Ave, Santa Fe, NM 87501
Phone: (505) 983-6756
Another exciting tapas restaurant, this congenial spot would be as at home in Madrid as it is in downtown Santa Fe. Wash down the tapas and paella with a Spanish wine or an oloroso sherry, or drop by their Chispa bar for live music and anitecap.
Location: 808 Canyon Rd., Santa Fe, NM 87501
Phone: (505) 983-9912
Santa Fe's oldest bar and restaurant, this historic spot on Canyon Road offers the some of the best people-watching in town, a happening bar with live music and a sophisticated menu of tapas and other Spanish specialties. Flamenco shows during the Summer.  This one is walking distance from De La Peña Estate and from Casa Oasis.