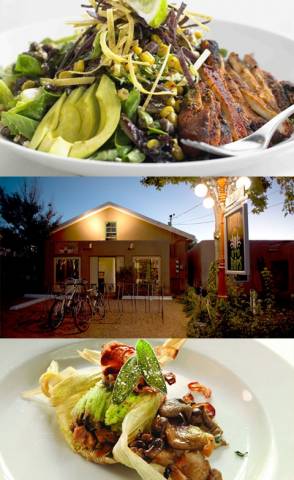 Location: 709 Don Cubero Alley, Santa Fe, NM 87501
Phone: 505.820.9205  
Vinaigrette is a chic and green Santa Fe bistro that raises the "salad bar" with bold and delicious entrée salads. Featuring innovative flavor combinations and the option to add savory protein accompaniments like diver scallops, lemon-herb chicken or grilled hanger steak, these tantalizingly hearty yet healthy creations allow for guiltless and delicious eating at the same time. Much of the restaurant's organic produce is grown on owner Erin Wade's 10-acre Nambe farm, Los Portales, harvested within hours of arriving at Vinaigrette's kitchen.  Walking distance from our Casita Lomita, Corazon, Desero, Amor, Bonita, & Espiritu. 
Location: 125 E Palace Ave. Suite 20, Santa Fe, NM 87501
Phone: 505.988.9232 
This warmly elegant restaurant in a historic compound is known for its exciting wine list and a flourish of local flavor on the menu of classics. In warmer weather, opt for outdoor seting in one of the city's lushest patios. For more casual dining, the adjacent Casa Sena Cantina offers lighter dishes delivered by singing waiters. 
Location: 222 N. Guadalupe St, Santa Fe, NM 87501
Phone:  505.954.1635 
An upscale pub that serves high quality and super beverages.  Local.  Sustainable. Quality.  Friendly.  Walking distance from our Casitas Montoya, Patron I, Patron II, and Ortega.