French Restaurants in Santa Fe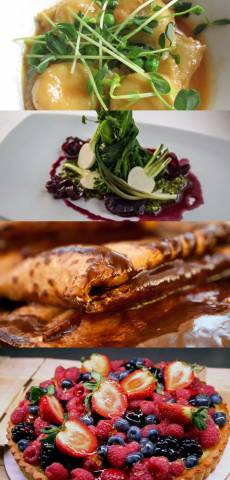 Location: 315 Old Santa Fe Trail,Santa Fe, NM, 87501
Phone: 505.986.9190
Provencal cuisine paired with terrific wine is always a winner, and this place serves them in a warmly congenial setting with a patio designed for lingering. Check out the wine bar for an extensive list of wines by the glass and daily specials.
Location: East San Francisco Street in La Fonda Hotel
Phone: 505.983.6697
Still in the same La Fonda Hotel spot where they first opened years ago, this simple cafe is an easy daytime choice for a bowl of soupe a l'oignon, a quick cappuccino or chocolate croissant to pick you up for an afternoon on the Santa Fe Plaza.
Location: 333 W Cordova Rd
Phone: 505.988.1809
A brunch or lunch delight, with fresh and delicious country salads, excellent sandwiches and a vast selection of pastries, which amply make up for the parking challenge. Breakfast and lunch only.