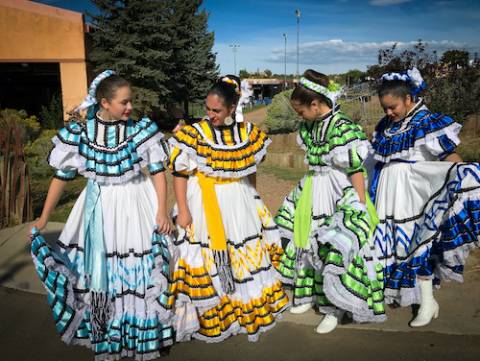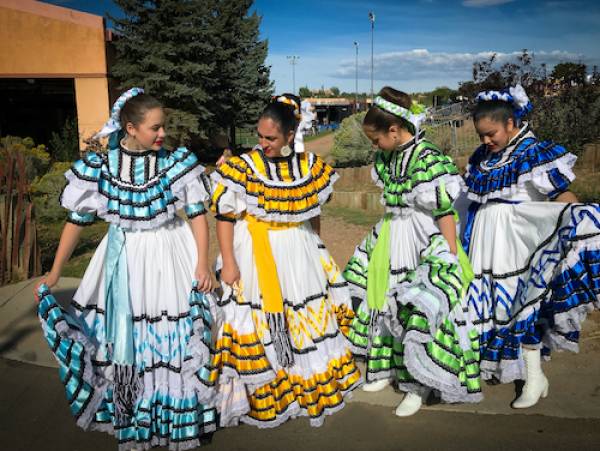 Fiesta de Santa Fe first kicked off 306 years ago in 1712 and it has been a staple of the community ever since. The festival draws locals and travelers alike for a weekend of culture, food, music, dance, art, and so much more. The 2020 Fiesta de Santa Fe takes place on September 11-13 at the Santa Fe Historic Plaza in Downtown Santa Fe. 
This event always takes place the first weekend after Labor Day. Art and craft booths, Santa Fe food, traditional entertainment, and religious ceremony all make this event completely unique to Santa Fe. Live music will fill the streets daily and local performers will also entertain throughout the day. The Plaza Gazebo turns into a venue hosting northern New Mexico and mariachi music, traditional dances from Pueblo Indians, Aztec dancers, Folklorico performers, and more. 
Enjoy traditional festival fare and local favorites this weekend as well. There will be plenty to please all palates, such as fried bread with honey, candy apples, corn-on-the-cob, and green chili burgers. 
The origin of the festival comes from 1692 when Don Diego De Vargas and the Spanish peacefully reoccupied Santa Fe. Over time the festival has grown to include other cultural events and activities that begin the weekend prior to commemorate the historic celebration of Northern New Mexico culture.
Fiesta de Santa Fe Events & Activities
Burning of Zozobra
On September 4, watch the 96th annual Burning of Zozobra. Staged annually by the Kiwanis Club of Santa Fe, the Burning of the Zozobra is an act of dispelling the hardships and struggles of the past year. In Spanish, Zozobra is defined as 'the gloomy one.' Today, a 50-foot marionette made of muslin is stuffed with hundreds of bags of shredded paper and set ablaze in Fort Marcy Park. This event starts at 4:30 p.m. and includes live entertainment for the big event at 9:30 p.m.
Fiesta Fine Arts and Crafts Market
On Labor Day weekend, the Fiesta Fine Arts and Crafts Market takes place along the streets that line the Santa Fe Plaza. This open-air art market features handmade artisan goods ranging from jewelry, pottery, hand-blown glass, woodwork, photography, painting, crafted leather, and more. Browse through unique collections and chat with the artist September 5-7 from 9 a.m. - 5 p.m. 
Desfile de Los Ninos Pet Parade
Since the early 1920s, the annual pet parade has been a staple of the Fiesta festivities. This fun event features roughly, 2,000 children in costumes and thousands of locals and tourists watching this unique tradition in action. The parade starts at the New Mexico School for the Arts and ends at the Plaza de Santa Fe with an awards ceremony. The children's parade is September 12 from 9 - 10:45 a.m. 
Santa Fe Fiesta Historical/Hysterical Parade
The 2020 Santa Fe Fiesta Historical/Hysterical Parade is September 13 and features local marching bands, floats, queens, sports teams, and more. This parade is lively and vibrant. Watch the festivities from 1-3 p.m.
Learn more about the annual Fiesta de Santa Fe.